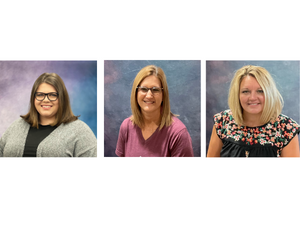 Supporting students and staff around behavior is the primary focus for school psychologists, social workers and behavior strategists at PLAEA.  These professionals have the opportunity to engage in a variety of work to help students succeed and teachers learn the right supports to help each individual student.
Kristy Hughett (school psychologist) obtained her additional degree through the Grow Your Own Program - a joint endeavor between the University of Northern Iowa and Iowa AEAs.  She moved from an early childhood special education consultant to this new role because she saw the uptick in mental health and behavior needs of students. 
"I wanted to be the person who had the knowledge and skills to know and do more to support students and the educators who work with them."  Kristy adds, "with my training I can promote positive behaviors, mental health and trauma sensitive practices so that schools can be a safe learning environment for all students."   
A day in the life of a behavior team member is varied.  However, you'll find them regularly engaged in:  
observations and consultation around student specific needs

modeling strategies

working with teachers, student support teams and administrators

problem solving and determining what students need to be successful

collaborating with other AEA team members and teachers who are supporting students

conducting functional behavior assessments and developing behavior intervention plans

conducting fidelity checks

completing paperwork and supporting teachers with the ACHIEVE system 

supporting students in crisis . . . and basically aiding in whatever is needed to help students flourish in school. 
In comparison to other work settings, there is a lot of variety, flexibility and support for behavior team members.
"We are never in this work alone," Kristy said.  
Stephanie Haman (Behavior Strategist) previously served as a teacher, student services interventionist, and behavior interventionist in Iowa school districts.  She utilizes the skills she learned in these positions and applies them in her new role. 
"What's different and refreshing is I did not have other colleagues, in the schools I served, who were doing the same work as I was.  Now, I have a team of people, with very diverse experiences and knowledge, who are doing the same work as me.  As a bonus, I love the people I work with.  Everyone I have encountered at PLAEA has been genuinely supportive – my mentor, dyad partner, department chair, supervisors, and others."
Christie Cuttell (School Social Worker) moved to Iowa three years ago and was excited to practice within the AEA system. 
"The advantages of working in an AEA are you have a team of people to work alongside you, who are well educated, knowledgeable and professional.  My team helps me navigate the challenges that come my way. This is very different from my other experiences as a social worker."  
When asked why PLAEA is a good fit for them, Kristy, Stephanie and Christie shared, "we have a multitude of opportunities to learn and stay current.  The agency is family focused and prides itself on making sure employees' professional and personal needs are met.  We have many opportunities to grow, build our leadership skills and enhance our practice." 
S
tephanie added, "I didn't know this opportunity existed for special education teachers in the AEA and I'm really thankful to be a part of this work."
As the needs of students change, there is more demand for behavior support in schools.  If you have a Master's Degree in Special Education, Social Work, or School Psychology, we would love to talk to you about joining our team!  We are hiring for multiple department positions for the 2023-2024 school year.    
Questions?
Contact Coletta Jaeger (Behavior Department Chair) or Jenn Peter (Regional Administrator-Behavior Liaison)