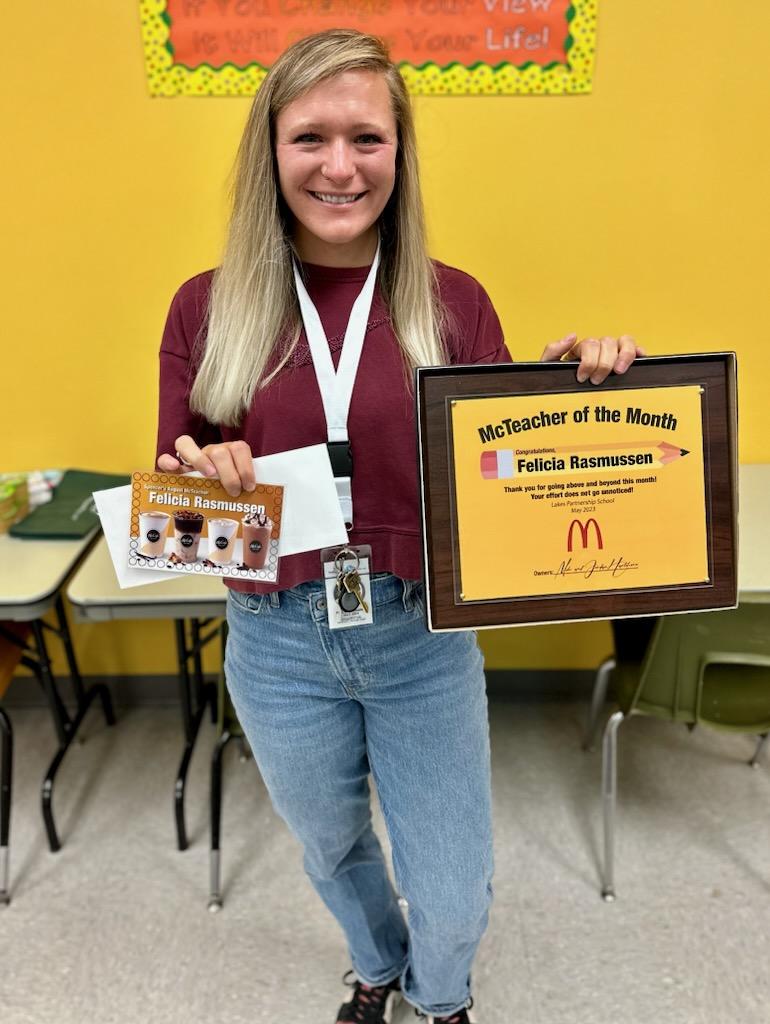 Felicia Rasmussen, special education teacher at Lakes Partnership School, has been recognized as the McDonald's McTeacher of the month for September by one of her students' parents. She was surprised with a small assembly where she was awarded $100 to use towards her classroom and a year's worth of McCafe. McDonald's also provided cookies and milk for all of the students.
   
A parent of one of her students submitted the following letter:
"She goes above and beyond to educate kids with behavior needs. She shows no judgements and does everything in her power to help teach them the skills they need to transition back into the general classroom. My son has been attending LPS for almost 2 years. He has extreme behaviors and is unable to learn in a "normal" class setting. She has helped teach him the skills that he needs so he can soon be back at (his home district).
She has made him enjoy school which is something I never thought was possible. My son could have very easily fallen through the cracks and missed out on an education because people didn't want to take the time and figure out how he learns best. I am forever grateful for the compassion she has shown my son. Mrs. Rasmussen did not give up on him because his behaviors were too intense. She has fought hard for him to succeed and that is something I can never repay.
Being able to form a connection and have a positive relationship with him so he can grow as a learner is amazing. There are not enough words to describe how Mrs. Rasmussen commitment and character as a teacher directly impacts her students. LPS is not well known to many in Spencer. They service the kiddos no one else can. That takes a special kind of teacher, and that is exactly what Felicia Rasmussen is. One of a kind!"-Stacie B. #everydayatPLAEA
Submitted by Brianne Goings