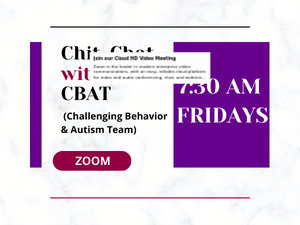 Drop in every Friday at 7:30 AM for Chit-Chat with CBAT, the Challenging Behavior & Autism Team. Hosted each week by at least two members of the team, this is an opportunity for you to bring concerns, ask questions. share celebrations and ideas, or just listen and learn.
Intended audience is behavior interventionists, special education teachers, paraeducators, school administrators or anyone having questions about working with children with challenging behaviors.
Note: There will be no chat on Friday, June 2nd.  This concludes the sessions for this school year.  Chit-Chat with CBAT will start again next August.  Stay tuned for details to come.