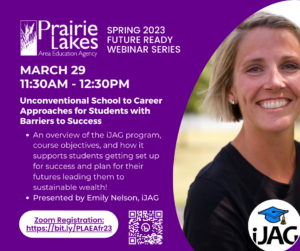 Emily Nelson, Program Manager for Iowa Jobs for America's Graduates (IJAG), will be the featured speaker at the March 29 Future Ready webinar. Emily will discuss Unconventional School to Career Approaches for At-Risk Students from 11:30 AM-12:30PM March 29.
Registration and Zoom Link
*Webinars will be recorded This is the second Future Ready Webinar in our series. Don't miss Andrea Stewart, from The Center, from 9-10 AM on April 25 to discuss Competency-Based Learning. For the recording of the Feb. 15 webinar with Kristy Volesky, Work-Based Learning Consultant from the Iowa Dept. of Education, visit the
Future Ready Smore
.