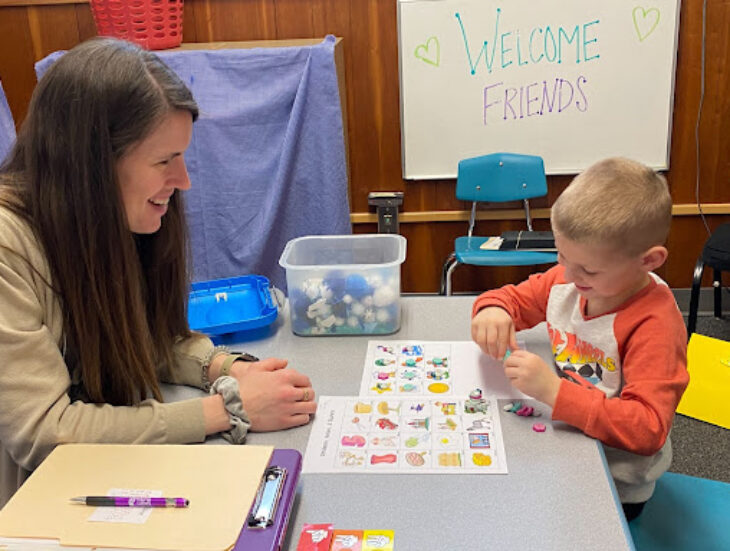 When Claire King was deciding what profession she wanted to pursue, she knew she wanted to help people, both young and old.  As a young child, Claire struggled with using her r's and received support from a speech language pathologist (SLP).  This experience, coupled with having an aunt who was an SLP, helped her decide that being an SLP would be a fulfilling career. 
Speech and language pathologists provide critical support to students who have speech, language and literacy needs.  With SLP intervention students, who qualify for this support, can better meet their academic and social growth goals in school and life.
Claire began her career in a hospital setting and was recruited by friends and colleagues to work for Prairie Lakes AEA. She joined the agency shortly after graduation and cites several benefits to working at Prairie Lakes AEA, including:
Collegial connections - 37 SLPs are employed by PLAEA 

Opportunities for collaboration - formal department meetings and daily interactions with peers provide support for someone new to the profession as well as veterans

Variety of disorders served - keeps her skillset sharp

Schedule - matches her young family's needs

Support within the agency - there are many opportunities to learn and grow personally and professionally
When asked what a typical day looks like as a PLAEA SLP Claire shares, "There is great variety in the work.  My days are quite different but usually consist of seeing students in schools for individual and group work, outpatient services for younger children, home visits and a meeting or two. Ultimately, the relationships developed with the children, the parents and my colleagues make this work rewarding and fulfilling."
Interested in becoming a Speech Language Pathologist at PLAEA?  Learn more & apply!
---