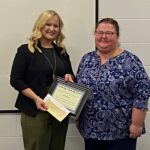 The Iowa Council of Administrators of Special Education (I-CASE) has awarded Haley Offerman  the Scholarship in Special Education Leadership.
Of
ferman is a Special Education Consultant and chairperson of that department at Prairie Lakes AEA. She will transition to a new role with the agency this fall, Facilitator of Professional Learning - Internal/External. 
I-CASE provides a scholarship ($1,000) to educators in special or general education who are working toward an advanced degree in educational leadership. Offerman, who has a Master's Degree in Special Education, is currently working on a second Master's Degree in the area of Education Administration which will be completed this summer.
Her goal
is to become a Director of Special Education.